Are you concerned about how Covid-19 will impact your loved one in prison? Get Daily Updates NOW: Text BOPCOVID to 44222
If We Could Dramatically Improve Your Prison Journey In One Evening Would You Let Us?
Grab our FREE Book, Lessons From Prison, containing 200 pages of strategies, ideas and case studies to ensure you serve the shortest sentence possible in the most favorable institution.

Free Ebook: Lessons From Prison
Are You Tired of Losing Sleep? Start Preparing In Privacy Now
If you're trapped in the criminal justice system there are strategies you can implement today to serve the least amount of time in the best environment possible… Download your free copy of Lessons From Prison now to learn how!
In Justin's Book, You'll Learn:
How to prepare for the journey, from an investigation to prison
How to work most effectively with your lawyer
How to prepare for life in prison
How to nurture your network while in prison
How to restore your confidence and dignity
How to repair your reputation from prison
How to create a proactive prison adjustment
You'll receive 2 extra bonuses: Our new Top 10 Prison Surrender Checklist & Course on the Residential Drug Abuse Program–the only federal program that can shorten your prison term by up to 24 months.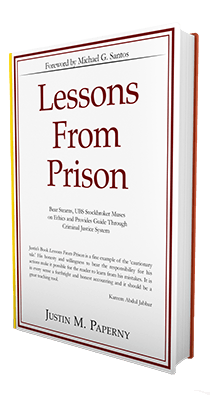 Federal Prison Advice Blogs
Okay, I will own it! I had a meaningless or do nothing job in federal prison. But I did the job. Always do you job in federal prison or trouble follows. In this video, I discuss a common a common federal prison trap. The trap is not so obvious, but more subtle,...
read more
Schedule A Free 15- Minute Consultation With A Federal Prison Advice Expert
Justin Paperny, author of Lessons From Prison and Ethics is Motion, is the foremost expert on prison consulting and white-collar crime. Since his release from prison in 2009 he has helped hundreds of defendants and their families thrive through the criminal justice system. Additionally, Justin has been a keynote speaker to academic and business audiences across the nation. His clients include The FBI Academy, New York University, and KPMG.