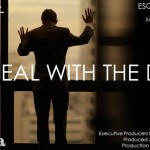 June 12, 2015

My Deal With The Devil
As a consequence of my time in prison I came to embrace the cliché that life is about the journey. That time away from family, friends and my community helped me realize that I had a role to play in society.
Admittedly, before surrendering to prison things always seemed to be about me—my case, the financial losses, the damn lawyers asking for more money, the anger I felt over reading the 
DOJ's press release
 and more.
In prison, I realized I had a responsibility to do better. It was not easy. To begin, I had to begin to undue years of making bad decisions. I would love to say the transformation was easy, but it was not.
Where did I start?
I learned to do my own thing. In prison, while writing blogs, then my book, guards and other inmates mocked me. "Ain't no one going to care what some money manager got to say about ethics or prison," the guard said to me. Almost as bad were many of the white-collar offenders who sought to diminish my efforts, while urging me to quit. Those men now call me looking for work.
After I began doing my own thing, I began waking early, while the dorm slept. I read books, wrote blogs, wrote my network (no e-mail yet in prison), taught classes, and began telling my story. In prison, I worked about 18 hours a day to prepare for the obstacles that awaited me, or any felon for that matter.
Perhaps you are wondering why I am sharing this with you?
My only regret while traversing the system was not starting sooner. As a result of living for so long like the proverbial ostrich with my head buried in the sand, I had to work twice as hard once I got to prison. Before surrendering I destroyed my network, spent all of my money, and hurt those that loved and supported me.
Many of you reading this blog have spoken with me. Others have followed my work for a while. Some of you are competitors who opt into my work to both learn from it and plagiarize it.
For those trapped in the system, I write this for you. Do not delay. A prospect told me earlier today that he would begin building his reputation once his lawyers negotiated the plea. Can I translate that for you? Okay, thank you. It means he will never begin. It is akin to the guys in prison who wasted five years of their prison term but loved to say they will begin preparing—and exercising—when they have six months to the house (halfway house for those who like the prison parlance).
It is hard for me to judge this gentleman, however, because I was him. I was the person I spoke with yesterday who couldn't' make a decision without her lawyer's opinion. The problem is the lawyer hasn't called her back for weeks. I was the person I met with in Beverly Hills over the weekend who knows that he should begin preparing for the PSI and that he should engage in some volunteer work, but is too paralyzed to act.
I regret nearly all of the decisions I made between January 11, 2005 the day UBS fired me for facilitating a fraud and April 28, 2008, the day I surrendered to prison. That time was harder than prison. I would love a do over.
The image I attach in this email is of a character that plays me in a documentary titled My Deal With The Devil that airs this Saturday. It was hard to film, to open up about the decisions I made as a younger man.  I agreed to do the film with NBC and Esquire because I still feel I have an obligation to give back, to carry that torch that I lit in prison.
To my clients reading this who are taking action, I admire you. You work on tasks each day that seemed to hard or daunting for me when I was in your shoes. To those wavering, take action. To those who cannot make a decision without that lawyer that famously gives them the blow off, take action and demand accountability. Lets not forget who works for who!
To close, I know that many reading this should not be prosecuted. As a taxpayer some of the prosecutions sicken me. America remains drunk on incarceration. But regardless of the motives of some (not all, but some) unethical prosecutors, you must prepare.
What can you do?
Write that narrative.
Learn to tell your story. What pressures, motivations and opportunities drove you?
Write out a list of people in your network, then call each one. I would not wait for the phone to ring.
Write a book list, and order the first 10, and then read them. In fact, email me the title of one of the books and I will order one for you now and in prison.
Inquire into some volunteer work in your community.
Go on job interviews and own your mistakes. You need practice telling your story.
And lastly: THINK BIG
I honeymooned in Italy and while studying Michelangelo's work in the Sistine Chapel, I was thrust back to a quote of his that I read in prison. Namely, "the problem with goals is that we do not set them too big, but too small"
Despite this episode, life can eventually become better than ever. You will develop a different perspective and appreciation for what matters. And if done well this experience for you, as it was for me, will be but a blip in your life.
For those who will soon cross over into the wrong side of prison boundaries, I offer three reminders:
Do your own thing, and do not become beholden to anyone.
Access daily whether the tasks you are working on will translate to the obstacles you will certainly face upon release.
What steps are you taking today to prove worthy of the love and support your network continues to offer you?
For those who wish to watch the show Saturday, I attach a link.
Best,
Justin